I was raised in the Air Force, one son of a Sr, Chief Master Sergeant – so I grew up with tough people in uniform, people I loved and respected. Two of my uncles were policemen; another was a lifetime army combat veteran – all tough men and real heroes to a young boy. My three brothers all served in the Armed Forces, and I spent a lifetime career in Aerospace building aircraft – a large part of which went to our Nation's Army, Navy and Marines – tough and heroic men and women who put themselves in harm's way to protect all we hold so dear.
I know tough….and I know heroic ….
Yet I am still amazed when I see either again….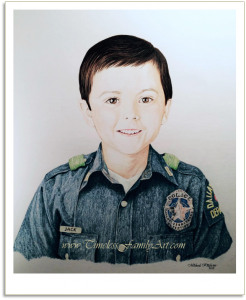 I was recently contacted by a member of the Dallas Police Department who, through her words and compassion, introduced me to another tough person in uniform….Jack Culverhouse ….. one of the newest and proudest members of Dallas' finest.
Jack is 7 years old – and fighting his own very tough and heroic battle with Diffuse Intrinsic Pontine Glioma (DIPG). I've come to understand that DIPG is a type of brain tumor that primarily affects children, has no current cure, and impacts most of the natural movements of the body.
Young Jack is also the great grandson of Billy Combest. He is another tough and heroic man who, before he passed, served over 50 years as a DPD Detective and Chaplin.
Chief David Brown, of the Dallas Police Department, had the honor of making Jack an Honorary Detective, and presented Jack with his own special badge. This badge carries his great grandfather's badge number, #1148.
I have been given the honor of creating a simple portrait of young Jack….proudly wearing his uniform….and carrying forward his great grandfather's personal badge number.
Please take a moment and visit Jack and his family on Facebook, under "Tough Like Jack" https://www.facebook.com/ToughLikeJack and take a few minutes to remember what "Tough" really is…..a few minutes to see the love and admiration young Jack has as he fights his own heroic battles.
God Bless you Jack…..God Bless your family…..god Bless the larger DPD family ….And God Bless all those who have the privilege of sharing this life with you.
Posted by Mike Kitchens
www.timelessfamilyart.com