Thank you for visiting our site! We wanted to launch our blog by highlighting one of the unique portrait themes we offer here at Timeless Family Art. Our "Somewhere in Time" portraits allow you to integrate pictures of your loved ones in combinations that would not have been possible in real time. With just a little bit of imagination, these portraits will allow our families and friends the opportunity to travel in time!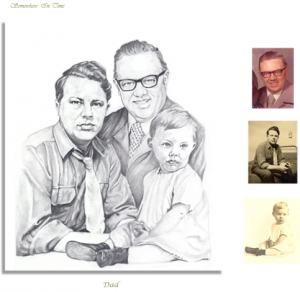 The first example that we want to share is a portrait of our Father, Dwight Mensen. Here we wanted to capture Dad at three ages:
1. As a 1920's baby being raised on a Kansas farm
2. A WWII GI stationed in Germany where he played for Gen Eisenhower's Band (the initial photo has a picture hanging on the back wall of his future bride, whom he met in the hustle and bustle of wartime Washington DC while she was working for Hoover's FBI)
3. As the truly "Gentle" man I came to know and love when I joined the family by marrying the third of four wonderful daughters.
We created artist quality Giclee prints of Dad's portrait so each of his daughters, and the 10 grandchildren they raised, could have their own.
The second "Somewhere in Time" portrait we want to highlight is of Sasha, a beautiful young lady, whose mother wanted a portrait that would show the stages of her daughter's growth from a young girl, to a teenager and finally, to the college student she is today.
We'll also let you in on a funny lesson we all learned during this commission. I had been working on Sasha's portrait and saving the complicated "shawl" draped over her shoulders for last, as it was a fairly detailed mixture of shapes and colors that, from my untrained eye, didn't really seem to match the rest of her attire. But realizing my knowledge of what young ladies wear to college today is limited, I never questioned her mom on the picture.
I actually woke up in the middle of the night thinking about Sasha's shawl, got up and completed th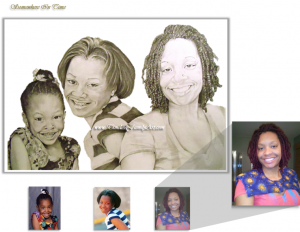 at part of the portrait. As is my practice, I sent an updated photo of the work in process to Sasha's mom showing the great "shawl" work I had completed.
When her Mom contacted me she had three things to say:
1. The picture was beautiful and better than she imagined!
2. The detail was amazing!
3. I was going to kill her! …. It was not a "shawl" – it was a heating blanket!
Apparently when Mom was looking for a picture that reflected Sasha's spirit and smile, the photo she liked most was taken when her daughter was teasing her about an old but comfortable heating pad Mom used on her own shoulders. Since that was the photo I was working from – and didn't know the story behind it – I included the heating blanket in her Portrait! As you can see, I was able to remove the heating blanket and we created a truly unique piece for Sasha's Mom Sonya and her family. Let us do the same for you!