The smallest of gestures can say so much, hint at untold stories of companionship and sharing, and provide a window into a future not yet lived.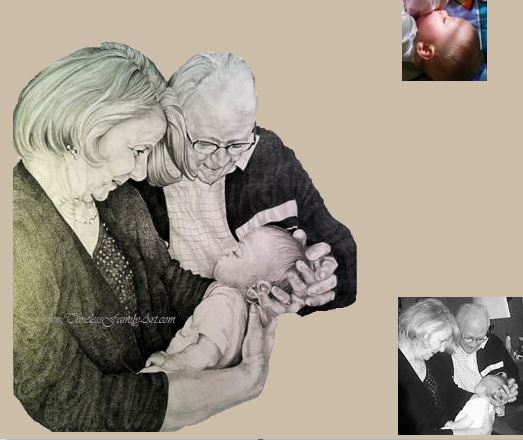 The smallest of gestures… occurring naturally can show an instinct to protect and nurture, all wrapped in a grandparent's look of amazement and unquestioned love.
Those are the thoughts that hit me so powerfully when Diane asked me to help her create a very sensitive, thoughtful and unique portrait for her daughter-in-law. She wanted help in capturing a precious memory of her daughter-in-law's grandparents and baby girl, together shortly before the terrible accident that took those grandparents away.
Notice how grandpa's hands cradle and support grandma's as they share in the joy of baby Halston.
The smallest of gestures… captured here, will one day help tell Halston the story of her great-grandpa and –grandma's love, and their wonderful moment together sharing in the miracle of their new granddaughter.
(Posted by Mike Kitchens of Timeless Family Art)
Subscribe to Michael Kitchens of Timeless Family Art by Email