Last year I had the great pleasure of joining my three brothers, our sister and our father in surprising our mother for her 80th birthday. We were blessed to have the families that each of us have built since leaving our parents' home all present for this special event. We were also even more blessed to have our mom's siblings and those special family friends (friends that only a lifetime of shared memories can create) share the special day with us as well.
What a great time I had sitting and visiting with the people who have meant so much in my life, looking into their eyes as we shared stories about family, our current lives and favored memories – experiencing that strange juxtaposition of memory and vision where you see each other as we currently look. At the same time, you see them occasionally transform into the other videos you have forever stored in your heart of them.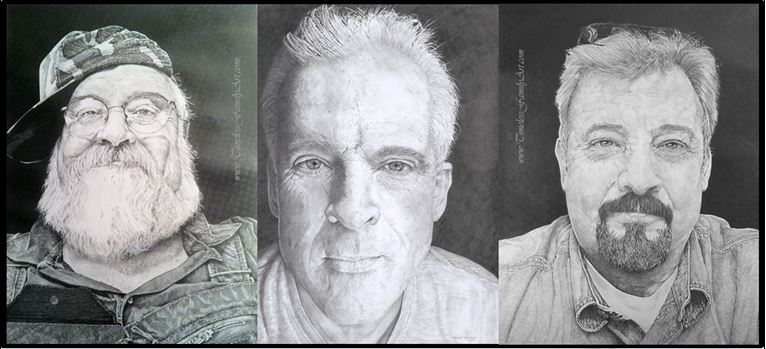 It was at this event that I decided I would undertake a special project – a plan to draw each of my brothers and our sister, but to do so in a fashion where I hoped to capture each of us as we "really" look. This means no flattering lighting or wind-blown hair, but hours away from a fresh shave, with all of the "character lines" that we have each earned and paid for during our lifetimes on clear display.
I started this journey creating my own self-portrait in pencil, working from a cell phone photo taken under the harsh lighting of a workshop. I have since completed the second sketch portrait in the series of Tom, our big brother, and now I am working on Jim's portrait. I am posting these portraits in order of birth – Tom on the left, me in the middle and James Patrick's work-in-progress on the right.
It's amazing to me how much we look alike; I sometimes feel I am redrawing the same poor character over and over again, just changing the facial hair from one to the next. However, I am loving the process and the results. During the process of creating these portraits, the hours spent studying their faces with a focus that most people will never experience in their lives, I get to remember so much about each of them, our time shared together, the families we have built, the lives they have lived and the amazing people each have become.
As for the results, I have this image that one day in the future, long after each of us has gone on, of our kids and grandkids stopping for a moment and sharing these portraits with their children and grandchildren and telling them "This was… this is who they were – what they did; this is how they really looked!"
I love the lives and memories I see in these faces; they are much more special and precious to me than anything Photoshop could create.