One of the things we enjoy most about out work at Timeless Family Art is helping people create something unique that will be special and meaningful for their families and loved ones long after our initial effort for them has been com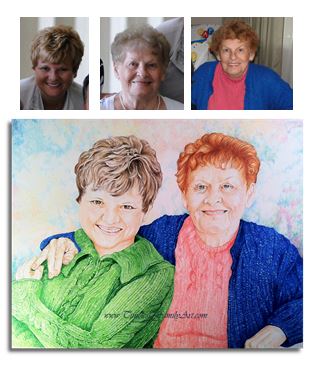 pleted.
I was recently contacted by a new friend who had just lost her grandmother – her mom's mom. She wanted to create a portrait of her mother and grandmother, and she wanted to incorporate the layered sweater attire she always remembered her grandmother wearing as she grew up.
We were able to help her family create the portrait she desired by using multiple different pictures as reference points, and I am sharing that portrait with you in this blog. this was created as an 11"x14" using colored pencil.
It's a real pleasure to help great families create portraits of their loved ones that might otherwise not have been possible in real time. Please visit our God's Blessings and Miscellaneous galleries to view other portraits we have helped families create by combining different images of their loved ones.